Intermediate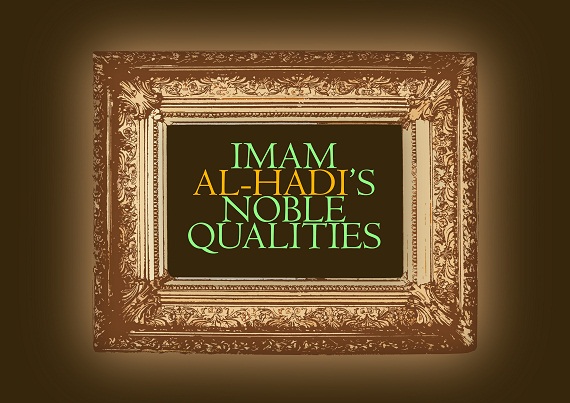 IMAM AL-HADI'S NOBLE QUALITIES
Updated On Monday, 25 August 2014
Written by Allamah Qurashi
Editor Fatimah Graham
Supervisor Sayyed Roohullah Musavi
Published on Friday, 14 February 2014
Hits: 302 views
Hits: Please describe Imam Hadi's noble qualities and characteristics.
Click to subscribe
Imam al-Hadi (a.s.) possessed qualities like those of his forefathers, whose qualities distinguished them from others. He was endowed with every principle of honor, dignity, virtue and excellence. It sufficed him to be one of the infallible imams of the Ahlul-Bayt (a.s.) whom Allah has purified and kept removed from the unclean. We shall briefly outline a few of the qualities of the Imam's honorable personality: His epithets: Mirrors of this Noble Qualities Imam al-Hadi's (a.s.) epithets illustrate the esteemed qualities he possessed: 1. An-Nasih (loyal); he was so called, because he was the most sincere advisor to the nation. 2. At-Taqiy (pious, devout); he was so called, because he feared Allah and turned to Him. Al-Mutawakkil, the tyrant Abbasid caliph, tried his best to attract Imam al-Hadi (a.s.) to amusement and debauchery, but failed. 3. Al-Murtadha (him with whom Allah is pleased). 4. Al-Faqeeh (jurisprudent); for his age, he was the most conversant in the field of jurisprudence and was the authority referred to by jurisprudents and scholars. 5. Al-Aalim (knowledgeable); of the people at that time, he was the most knowledgeable, not only in Islamic law, but in all branches of knowledge and science. 6. Al-Ameen (trustee on religion and life). 7. At-Tayyib (generous, good-hearted, good-natured). 8. Al-Askari (military); he was so called, because he resided in Samarra, known as al-Askar. 9. Al-Muwadhdhih (explainer of the verdicts of the Holy Book and the Sunna). 10. Ar-Rasheed (wise, prudent); he was so called, because he was the wisest and most prudent of his time. 11. Ash-Shaheed (the martyr), because he was martyred at the hands of the enemies of Allah. 12. Al-Wafiy (loyal); he was the most loyal of his people, and loyalty was an element of his personality. 13. Al-Khalis (pure from every defect and anything bad). 14. Al-Hadi (guide), because he was the guide toward God on the right path. This epithet is one of his most famous. 15. Al-Nagiy (pure); he was so called, because he was pure of every sin and vice. His Dignity and Reverence He inherited a demeanor of dignity and reverence from his forefathers. He displayed the mien of prophets and the brightness of guardians, and neither his enemies, nor his followers could encounter him without revering and respecting him greatly. Muhammad bin al-Hasan al-Ashtar al-Alawi said: "One day, I was with my father at al-Mutawakkil's (the Abbasid caliph) door, among a crowd of people. While we were waiting there, Abul Hasan (al-Hadi) arrived and everyone dismounted, revering and honoring him until he entered the palace. One person refused to show reverence towards Imam al-Hadi (a.s.) and said: 'Why do we dismount to this boy? By Allah, he is neither the noblest, nor the eldest of us. By Allah, we should not dismount to him when he comes out.' Abu Hashim al-Ja'fari replied to him: 'By Allah, you shall dismount to him with humility.' When Imam al-Hadi (a.s.) came out, everyone began to cry out takbir and tahlil1 and they stood up and glorified him. Abu Hashim turned around and said: 'Did you not claim that you would not dismount to him?' They replied: 'By Allah, we could not prevent ourselves from dismounting.'"1 Hearts revered and honored him, and this reverence was not a result of authority or rule, but from his devotion to Allah, asceticism in this worldly life, and utmost piety. The following story shows how tyrants were effected by his dignity and integrity: Al-Fadhl bin Ahmad al-Katib ('the clerk') narrated that his father, who was al-Mu'tazz's clerk, said: "We accompanied al-Mu'tazz one day to visit al-Mutawakkil, who was seated on his throne, looking askance at his vizier al-Fath bin Khaqan and shouting angrily: 'This is he, of whom you spoke!'" Al-Fath tried to calm him down saying: "O, commander of the faithful. It was fabricated against him." Al-Mutawakkil paid no attention to him and said: "By Allah, I will kill he who fabricates and defames my rule." He brought four men from the Khazar, who understood nothing, gave them arms and ordered them to kill Imam al-Hadi (a.s.) when he arrived:. He said angrily: "By Allah, I will burn his body in fire after killing him." Imam al-Hadi (a.s.) arrived surrounded by the guards of the palace who glorified him by saying loudly "la ilaha illallah" (there is no god but Allah), and "Allahu akbar" (Allah is great).They said: "This is the son of al-Rida." When al-Mutawakkil caught sight of him, he was affected by his air of dignity and Allah cast terror into his heart. He jumped from his throne, received the Imam warmly, kissed him on the forehead, and said to him reverently: "O my master, son of the messenger of Allah, the best of whom Allah has created, my cousin, my lord Abul Hasan." Imam al-Hadi (a.s.) advised and warned him of the punishment of Allah. Al-Mutawakkil asked him: "My master, why did you come at such a time?" Imam al-Hadi (a.s.) replied: "Your messenger came to me saying: 'al-Mutawakkil sends for you.'" Al-Mutawakkil replied: "My master, go back to where you have come from." Al-Mutawakkil turned towards his viziers and sons and said: "Fath, Abdullah, Mu'tazz, escort your master." Imam al-Hadi (a.s.) left surrounded by a halo of reverence and glorification and the Khazars refrained from killing him when they saw his air of dignity, the guard's honoring him, and al-Mutawakkil's praise of him.2 And thus, al-Mutawakkil's attempts to take the Imam's life, failed. His Cleanliness Whilst Imam al-Hadi (a.s.) avoided the luxurious life and excessive jewelry and adornments, he always appeared spotlessly clean and well-dressed. He said: "Allah is beautiful and He loves beauty and attractiveness, and He hates misery and those who are miserable. Allah the Almighty likes, when He bestows a blessing on His slave, to see the effects of that blessing appear on him." He was asked: "How?" He replied: "To clean his clothes, make himself smell good, tidy his house, and sweep the yard. Even a lamp lit before sunset removes poverty and increases livelihood".3 His Generosity Generosity was one of the renowned qualities of Imam al-Hadi (a.s.). He was the most liberal and generous person of his time. Historians have cited many examples of the generosity and charity of Imam al-Hadi (a.s.) toward the poor and needy. During the time that Imam al-Hadi (a.s.) lived in Yathrib, scholars, lawyers, and narrators, all surrounded him to benefit from the springs of his knowledge. Just as he was a fertile source for the intellectual and scientific life in Yathrib, he was also the only source that provided students with money and material means, in addition to providing the poor and needy with what they required. In addition to making charitable donations to the people of Yathrib, Imam al-Hadi's (a.s.) kindness extended to all aspects of their lives. He comforted them in sorrow and in joy. He visited the sick, participated in funerals, showed kindness to the young and old, and cared for widows and orphans. In return, they were very loyal to him. They surrounded him with their love and affection and he dwelt deep in their souls. His Kindness, even toward Enemies Historians have said that at one time al-Mutawakkil was afflicted with abscesses from which he was about to die. Al-Fath bin Khaqan counseled him to send a messenger to Imam al-Hadi (a.s.) to tell him of his situation so he might provide a remedy. Al-Mutawakkil sent a messenger to Imam al-Hadi (a.s.), who prescribed a remedy for him. After using the remedy al-Mutawakkil was restored to health. When his mother was informed of his recovery, she sent Imam al-Hadi (a.s.) a pouch of ten thousand dinars sealed with her seal. Muhammad bin al-Qassim al-Bathawi went to al-Mutawakkil and told him that money and arms had been carried to the Imam. Mutawakkil was terrified and ordered Sa'eed the custodian to break into Imam al-Hadi's (a.s.) house during the night and fetch all weapons and monies he might find there. Sa'eed went to Imam al-Hadi's (a.s.) house. He put up a ladder and climbed up to the roof, but it was too dark and Sa'eed did not know how to get to the yard of the house. Still in a state of confusion, he heard Imam al-Hadi (a.s.) saying to him: "O Sa'eed, stay as you are until we bring you a candle!" He was given a candle and climbed down into the yard. There, he found Imam al-Hadi (a.s.) wearing a woolen garment and woolen cap, and saw a prayer rug on a mat. He searched the entire house, but found nothing except the pouch and ten thousand dinars. He lifted the Imam's prayer rug and found a sword. He took all of this to al-Mutawakkil. When al-Mutawakkil saw the seal of his mother on the pouch, he sent for her and questioned her about the matter. She told him that she had vowed to give a gift to Imam al-Hadi (a.s.) if al-Mutawakkil recovered from his illness, and that subsequently once al-Mutawakkil had recovered, she fulfilled her promise. Al-Mutawakkil was embarrassed and added another pouch of money to that of his mother's and ordered Sa'eed to take them both to the Imam. He took them to him and apologized. Imam al-Hadi (a.s.) replied by reciting the Qur'anic verse: "Those who do wrong will come to know by what a (great) reverse they will be overturned."4 His Asceticism Imam al-Hadi (a.s) lived an ascetic life in every way. He adhered to worship, piety, and asceticism. He preferred the obedience of Allah to everything else. Neither his house in Yathrib, nor his house in Samarra had any furniture. One day, al-Mutawakkil's guards broke into his house and searched it, but found nothing of worldly value. They also searched his house in Samarra and found him wearing a woolen garment and sitting on sand and pebbles. There was nothing between him and the ground. Working on his Farm Imam al-Hadi (a.s.) was free from every material tendency. He was free from any kind of selfishness and he did not submit to any pleasure or fancy. Historians say that he worked on his farm to secure the living of his family. Ali bin Hamza said, "Once, I saw Abul Hasan the third (Imam al-Hadi) working on the farm with his feet soaked with sweat. I said to him: 'May I die for you! Where are the men?' He said: 'O Ali, one, who was better than me and than my father, worked with a spade on his farm.'" I said: "Who was he?" He replied: "The messenger of Allah (a.s.), Amir al-Mu'minin, and all my fathers worked with their hands. It was the work of prophets, apostles, and pious saints."5 His Worship When you read of the lives of the infallible imams of the Ahlul-Bayt (a.s.), you find that the main focus of their lives was their devotedness to Allah and their spending the night in worship, chanting, and reciting the Qur'an. At that time, a devout and pious worshipper, the like of Imam al-Hadi (a.s.) had never been seen. He always offered all recommended worship (nafila). The supplications of the infallible imams were not limited to the spiritual, but also included other aspects of life. Supplications also related to political affairs and the oppression that people suffered during the reigns of those kings who were excessive in oppressing the people and forcing them to do things against their will. Response to his Supplications One of the strengths of Imam al-Hadi (a.s.) was the speedy response to his supplications by Allah, due to the exalted position he and his fathers had, close to Allah. Historians have given many examples of this. There was a man in Isfahan, Iran, called Abdur Rahman, who had embraced Shi'a Islam and believed in the imamate of Imam al-Hadi (a.s.). Abdur Rahman was asked the reason behind this and he answered: "I was poor, but brave and eloquent. I, with a group of people from my town, went to al-Mutawakkil to complain. When we arrived in Samarra, we went to his palace. While we were waiting at al-Mutawakkil's door, an order was issued from the palace to bring Ali bin Muhammad bin al-Rida (a.s.). I asked about him and I was told that he was an Alawid, whom the Rafidha (the Shi'a) believed in as their imam. It was said that al-Mutawakkil might order him to be killed. I said to myself: 'I will not leave my place until I see him.' I had not waited long when Imam al-Hadi (a.s.) arrived on horseback. People rose and glorified and honored him. On seeing him, I loved him. I began praying to Allah to keep him safe from the plotting of al-Mutawakkil. Imam al-Hadi (a.s.) caught sight of me. He came towards me, and said: 'Allah has responded to your prayer. He will prolong your life and increase your wealth and children.' I trembled, because he knew what was in my mind and what I had intended. We came in to see al-Mutawakkil, carried out our affairs and then I left for Isfahan. Allah endowed me with great wealth that I had not even dreamed of. Now I have one million dirhams in my house, besides the wealth I have outside it. I have ten sons and I am now over seventy years old.6 All of this was due to the blessing of the du'a of Imam al-Hadi (a.s.)". Ali bin Ja'far was one of the deputies of Imam al-Hadi (a.s.). One day, when the Imam was in the vicinity of al-Mutawakkil, he was betrayed and al-Mutawakkil had Ali bin Ja'far thrown into prison. He remained in prison for a long time and when he could not bear it any longer he asked an agent of the Abbasid government to intercede for him and request his freedom, for which he would pay him three thousand dinars. The agent went to Ubaydillah, who had a good position close to al-Mutawakkil, and asked him to intercede with al-Mutawakkil for Ali bin Ja'far. Ubaydillah responded and interceded with al-Mutawakkil requesting him to set Ali bin Ja'far free, but al-Mutawakkil refused saying: "If I doubted you, I would say you are a Rafidhi (Shi'a). This is a deputy of Abul Hasan al-Hadi and I have determined to kill him." Ubaydillah regretted his intercession and told his friend (the agent) that al-Mutawakkil was determined to kill Ali bin Ja'far and there was no chance of setting him free. Ali bin Ja'far became so distressed he wrote a letter to Imam al-Hadi (a.s.) pleading: "O my master, please do something for me. I fear I may lose my faith." Imam al-Hadi (a.s.) replied: "Since the matter has reached this point with you, I will pray to Allah for you." Al-Mutawakkil then became seriously ill with a rising fever, and in response, he ordered his men to set free all prisoners, giving a special order to set Ali bin Ja'far free. Al-Mutawakkil ordered Ubaydillah to set Ali free and to beg him to forgive him and what he had done to him. Ali was set free and went to live in Mecca as ordered to by Imam al-Hadi (a.s.).7
---------------------------------------------------------
References: 1 Bihar al-Anwar, vol. 13, p.131, A'yan ash-Shi'a, vol.4 p.274-275. 2 Al-Kharayij by ar-Rawandi. 3 Al-Amali by Sheikh al-Mufid. 4 Qur'an, 26:227. 5 Man La Yahdhuruhu al-Faqih 6 Bihar al-Anwar, vol.13 p.132. 7 Bihar al-Anwar, vol.13 p.142.