Intermediate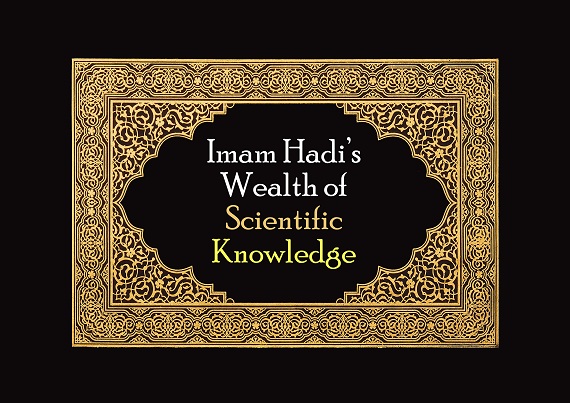 Imam Hadi's Wealth of Scientific Knowledge
Updated On Monday, 25 August 2014
Written by Allamah Qurashi
Editor Fatimah Graham
Supervisor Sayyed Roohullah Musavi
Published on Friday, 14 February 2014
Hits: 1410 views
Hits: Please briefly discuss the extent of Imam Hadi's scientific knowledge and how this legacy has been transmitted to us.
Click to subscribe
Allah had filled Imam al-Hadi's (a.s.) heart with knowledge and especially with a love of science. Hidden secrets and obscurities were uncovered for him effortlessly. Everyone spoke of his expansive knowledge with no one equalling him in his extraordinary scientific understanding, which covered the sciences of hadith, jurisprudence, philosophy, theology, and other branches of knowledge. Scholars and jurisprudents often asked his opinion with respect to complicated and confusing questions on verdicts of the Islamic Sharia. Al-Mutawakkil, the Abbasid caliph, who was the most bitter enemy of Imam al-Hadi (a.s.) and his fathers, referred to the opinion of Imam al-Hadi (a.s.) when faced with issues on which the scholars of his age disagreed, and he preferred Imam al-Hadi's (a.s.) opinions to those of other scholars. Hadith Many traditions were transmitted from Imam al-Hadi (a.s.); some narrated by the Prophet (a.s.) and others narrated by his infallible forefathers (a.s.). The traditions transmitted from the Prophet (a.s.) and the infallible imams of his progeny were not limited to legal verdicts and religious questions, but included all aspects of life. They established a basis for morals, discipline, good behavior, and other intellectual and social issues. The collection of precious words narrated by Imam al-Hadi (a.s.) are one of the intellectual treasures in Islam, in which Imam al-Hadi (a.s.) discusses various educational, moral, and psychological issues. Imam al-Hadi (a.s.) ordered his followers to act according to traditions if they were certain that those traditions had come from the infallible imams and they understood their contents; otherwise, they should refer them to the Imams to verify and explain them. Jurisprudence Imam al-Hadi (a.s.) devoted much attention to the spread of the principles of Islamic Sharia, the explanation of its verdicts, and the teachings of its sciences. Jurisprudents and scholars gathered around him, drinking from his fountain of knowledge and recording his traditions,which were the sources of Islamic rulings for Twelver Shi'a. Imam al-Hadi (a.s.) was the unequalled jurisprudent of his age to a degree that even al-Mutawakkil, the Abbasid caliph, who was one of the Alawid's bitterest enemies, referred to him in complicated questions and preferred his fatwas to those of other jurisprudents. Al-Mutawakkil refers to the Imam's fatwas Al-Mutawakkil could not help but refer to Imam al-Hadi (a.s.) for help with the issues he faced. He preferred his fatwas to the fatwas of all other jurisprudents of his age. The following are a few examples of the questions that al-Mutawakkil posed to Imam al-Hadi (a.s.): On one occasion, al-Mutawakkil became ill and vowed that if Allah healed him, he would donate many dinars to charity. When he was restored to health, he gathered the jurisprudents and asked them how much money he should pay as charity to fulfill his vow, but they all disagreed. Then, he asked Imam al-Hadi (a.s.). Imam al-Hadi (a.s.) replied that al-Mutawakkil should pay eighty-three dinars. The jurisprudents were astonished at this and asked al-Mutawakkil: "From where did he get this answer?" Al-Mutawakkil wrote to Imam al-Hadi (a.s.) asking him about the source of his answer, and Imam al-Hadi (a.s.) replied: "Allah the Almighty says, 'Allah has given you victory in many battlefields'1 All our ancestors narrated that the battlefields were eighty-three."2 He continued: "However much good Amir al-Mu'minin does, it will be useful and worthy of reward in this life and in the hereafter."3 Al-Mutawakkil invites ibn as-Sikkit to test the Imam Al-Mutawakkil asked the prominent scholar Ya'qub bin Isaaq, known as ibn as-Sikkit to ask Imam al-Hadi (a.s.) a complicated, ambiguous question that the Imam may not be able to answer, so that al-Mutawakkil would have an excuse to defame and degrade him. But when ibn as-Sikkit failed to succeed in testing the Imam, he said: "What business does ibn as-Sikkit have in arguing with the Imam? Ibn as-Sikkit) is but a man of grammar, poetry, and linguistics". The questions of Yahya bin Aktham Yahya bin Aktham posed some questions to Imam al-Hadi (a.s.), which he had previously prepared and written down, in order to test him.When he asked his questions, he was astonished at Imam al-Hadi's(a.s.) answers to these ambiguous questions. Then he turned to al-Mutawakkil and advised him: "It is not a good idea to ask this man about anything after my questions to him. By allowing him to show his knowledge, this strengthens the rafidha (Shi'a)."4 Imam al-Hadi (a.s.) was one of the great men of knowledge in Islam. He was the heir of the knowledge and scientific knowledge of his forefathers who were the leaders of intellect in Islam. Imam al-Hadi (a.s.) replied to ibn as-Sikkit's ambiguous questions immediately, the very moment he looked at them. This showed his immense scientific ability, which was one of many outstanding qualities of this great Imam (a.s.). Theological Arguments At the time of Imam al-Hadi (a.s.) a multitude of doubts and misconceptions were being spread about the fundamentals of Islam. This began during the Umayyad rule and paved the way for the spread of deviant and misguided thoughts and concepts. The Umayyads encouraged such misguidance, which continued even more strongly during the Abbasid rule. Muslim scholars, led by the Imams of the Ahlul-Bayt (a.s.), resisted and disproved such atheistic opinion and thought by using irrefutable, scientific evidence. All of this was recorded in the writings of Shi'a scholars, to illustrate the struggle of the Imams supporting Islam and fighting against disbelief and atheism. There are many traditions transmitted from Imam al-Hadi (a.s.) in this regard, where he enlightens using true Islamic doctrine and suppresses false, fabricated and deviated concepts. His companions: The bearers of his heritage The vast intellectual achievements and knowledge of Imam al-Hadi (a.s.) in all sciences, such as tafsir (commentary of the Qur'an), jurisprudence, Islamic arts, ethics, and other fields, ensured that he was the final destination for scholars and seekers of knowledge in their travels. The companions of Imam al-Hadi (a.s.) represented the true mission of Islam. But, the Abbasid government pursued anyone who attempted to proliferate or discuss the virtues of the Alawids or narrate their traditions, and arrested them before either killing them or imprisoning them in darkness forever. Therefore, narrators sometimes refrained from mentioning the name of the infallible Imams from whom they narrated traditions. They referred to them sometimes by their surname, sometimes by their titles and at other times did not declare their real names.
----------------------------------------------------------
References: 1 Qur'an, 9:25. 2 Tareekh al-Islam by ath-Thahabi chap. The Men of the Twenty-sixth Class, Tathkirat al-Khawas, p.360. 3 Al-Muntadham, vol.12 p.26-27. 4 Al-Manaqib by ibn Shahrashub, vol.4 p.403-406, Tuhaf al-Uqul, p.477- 481.