Advanced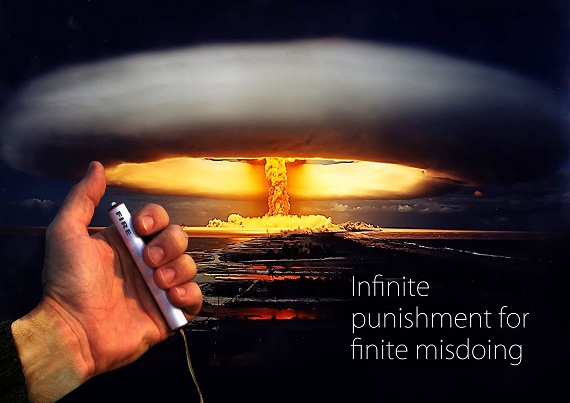 Infinite punishment for finite misdoing
Updated On Saturday, 26 July 2014
Written by Ayatullah Musavi Lari
Editor Kawther Rahmani
Supervisor Sayyed Roohullah Musavi
Published on Thursday, 08 March 2012
Hits: 399 views
Hits: How can the problem of claimed disproportion between the finite misdoing of sinners and their eternal punishment of hellfire be solved?
Click to subscribe
Let us see how it is possible to accept the lack of proportion that appears to be present in God's punishing the unbelievers, criminals and tyrants with an eternity in hellfire. How can such an apparent departure from justice be attributed to God? Once we begin to look at this question with some degree of profundity, we will see that it is implicitly based on the incorrect assumption that punishments in the next world are unchanging and fixed in accordance with the legislator's assessment of the degree of the crime that is to be punished. Once this assumption is made, there is indeed no way of reconciling an eternity in hellfire with the necessarily finite nature of any offence. However, the relationship between a deed and its punishment is a natural and ontological relationship, the latter being the fruit and result of the former; the punishment is not fixed for the deed by means of a set of fixed juridical criteria. Once this is understood, the problem can easily be resolved. The pain and torment that the sinner suffers after resurrection are themselves properties of the deed, properties which have a natural continuation and therefore pursue the sinner in the Hereafter. The Quran indicates this in the following verses: 'Their evil deeds will become apparent before them, and that which they mocked will befall them' (45:33). 'They will find present whatever they had done, and your Lord does not wrong anyone' (18:49). 'On the Day of Resurrection, men shall come forth separately from their graves to confront their deeds; all who have done an atom's weight of good shall see it, and all who have done an atom's weight of evil shall see it' (99:6-8). 'Whoever has done a good deed will find it before him on the Day of Resurrection, and likewise [with] whatever ugly and sinful act he may have committed' (3:30). Imam al-Sadiq (S) said: "Gabriel came to meet the Most Noble Messenger and said to him: "O Muhammad, lead your life as you wish but ultimately you will be brought face to face with death. Love whomever you wish, but ultimately the day will come when you must bid him farewell and be parted from him. Do whatever you wish while in this world, but on the Day of Resurrection you shall find your deeds before you again."" (1) What is meant by the seeing of deeds in the Hereafter is man's being confronted with the shape and form his deeds have assumed in conformity to the conditions of that realm. Despite our assumption that our deeds are relevant only in the instant in which they take place, lacking all permanence, in reality they weigh so heavily in certain instances that they penetrate all dimensions of existence.
__________
References 1. al-Kafi, Vol. III, p. 255.