Intermediate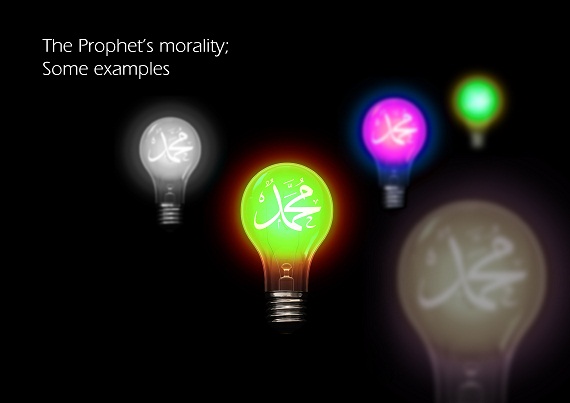 The Prophet's morality; Some examples
Updated On Sunday, 27 July 2014
Written by Allamah Qurashi
Editor Faisal Shaheen
Supervisor Sayyed Roohullah Musavi
Published on Wednesday, 07 May 2014
Hits: 244 views
Hits: Please outline some examples of the Prophet's morality!
Click to subscribe
A Jewish man was found to be too spiteful to the Prophet (SAWA). He exaggerated this in harming him. He threw soil and ashes on him whenever he passed by his house. One day, the Jew became ill. Concerned by the change in routine and lack of refuse that he had become accustomed to, the Prophet (SAWA) went to the Jew's house. He knocked on the door and the Jewish man's wife opened the door. The Prophet (SAWA)said to her: "Your husband has accustomed us to some habit, but he stopped it and I suppose he is ill. Now, I am coming to visit him." She permitted him in. When the Jewish man saw the Prophet (SAWA), he was surprised and said: "These are the morals of prophets." He embraced Islam, becamea Muslim and took away all spites from his heart toward the Prophet (SAWA). When someone greeted the Prophet (AS) in the street, the Prophet (SAWA) did not leave until that person would leave first. If some man shook hands with him, he did not take off his hand until that man would take off his hand first.(1) He did never say to anyone even one word that might tease or harm him, but he met people with nice and good statements. One day, aman came to the Prophet (SAWA) but he hesitated and withdrew from the Prophet (SAWA) because of his sheer gravity. The Prophet (SAWA) responded to him humbly: "I am but a son of a woman from Quraysh who ate jerked meat in Mecca." (2)He divided his time (of meeting) among his companions equally.(3) He met the old and the young, the free and slaves with smiles and pleasant manner. He did not show any sign of anger towards anyone except when he saw a bad deed that was unlike what Allah wanted; then, anger appeared on him. Abdullah bin Umar narrated that the Prophet (SAWA) had never stretched his legs before anyone sitting with him at all. When someone sat with him, he would not leave until that one would leave first.(4) Aaiishah (the Prophet's wife) narrated: "No one at all was better than the messenger of Allah in good manners. Whenever someone of his companions and family called him, he would say to him: At your service!" (5) Aaiishah said: "The Prophet's morals were like the Qur'an whose meanings and attributes would not end." These were just a few examples on the Prophet's moralities that have filled the books of biographers and changed the course of history and established the government of Allah in the earth.
___________
References 1.Sahih of at-Tarmithi, vol. 2 p. 255, Usool al-Kafi, vol. 2 p. 190. 2.Tareekh Baghdad, vol. 6 p. 220. 3.Rawdhat al-Kafi, p. 268, Mushkil al-Aathar, vol. 4 p. 299. 4.Makarim al-Akhlaq, p. 15. 5.Tafsirar-Razi, vol. 15 p. 82 when interpreting this verse (And mostsurely you are with sublime morality) 68:4.