Intermediate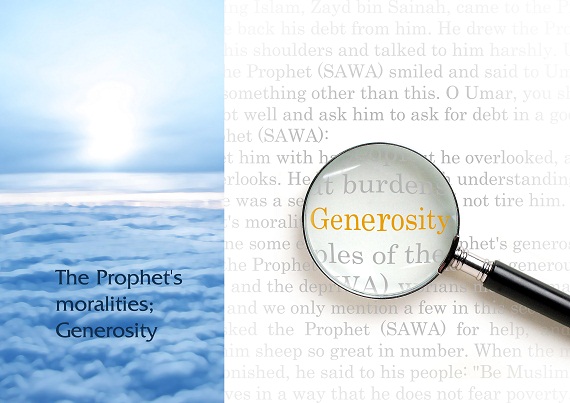 The Prophet's moralities; Generosity
Updated On Sunday, 27 July 2014
Written by Allamah Qurashi
Editor Faisal Shaheen
Supervisor Sayyed Roohullah Musavi
Published on Wednesday, 07 May 2014
Hits: 257 views
Hits: Please outlinesome examples of the Prophet's generosity!
Click to subscribe
Undoubtedly, the Prophet (SAWA) was the most generous, charitable one to the poor and the deprived. Historians mention many examples on this matter and we only mention a few in this section: Amanonceasked the Prophet (SAWA) for help, and the Prophet (SAWA) gave him sheep so great in number. When the man went back home astonished, he said to his people: "Be Muslims, for Muhammad gives in a way that he does not fear poverty." (1) He set free the captives of Hawazin who were about six thousand persons. (2) Some woman gifted him with a garment and he was in need of it. When he put it on, some companion saw it and said: "O messenger of Allah, how beautiful it is!" The Prophet (SAWA) took it off and gave it to the companion. (3) One day, some wealth was brought to him from Bahrain. He asked his companions to scatter it and they did. It was the largest offering ofwealth that had ever been brought before him. He went to the mosque and when he finished offering the prayer, he came and divided the wealth among his companions without leaving anything to himself. Once, he went to al-Jairanah (near Mecca). He divided monies there and people crowded around him while he was giving to them until they forced him to a tree and took his cloak. He said to them: "Give me back my cloak. By Allah, if I had as much as the trees of Tehama, I would divide it among you." (4) It is worth mentioning that the Prophet's charity was not limited to the poor, but it included even animals. Once, ripe dates were offered to him and there was a sheep nearby. He began eating the dates with his right hand and holding the stones (date pits) with his left. He made a sign to the sheep and it came toward him and began eating the stones in his left hand. He did not throw the stones on the ground lest they would be dirty and the sheep might not eat them.(5) Imam Ali (AS) described the Prophet's liberal and giving nature bysaying: "He was the most generous of all people in giving, the most in forbearance, the most truthful one, the most lenient, and from the noblest tribe. Whoever sees him once reveres him, and whoever mixes with him thoughtfully loves him. His describer says: I have seen like him neither before nor after him."(6) The Prophet (AS) undertook by himself the giving to the poor and he did not entrust that to anyone else. Aa'isha narrated that she had not seen the Prophet (AS) entrust his charities to anyone other than himself, but it was he himself who put the charity in the askers' hands. The Prophet (AS)was the most generous one in goodness as ibn Abbas said. This aspect had been inherited by his beloved grandson Imam al-Hasan(AS) who did not know any value to money except to satisfy the hunger of a hungry one or to clothe a naked one with it until he was called as "the munificent one of the AhlulBayt" though all of the AhlulBaytwere generous.
___________
References 1.Jawahir al-Bihar fee Fadhaiil al-Mukhtar, vol. 1 p. 41. 2.Ibid. 3.Muhammad the Perfect Example, p. 26. 4.Bihar al-Anwar, vol. 16 p. 430. 5.Ibid. 6.Sahih of at-Termithi, vol. 2 p. 286.