Elementary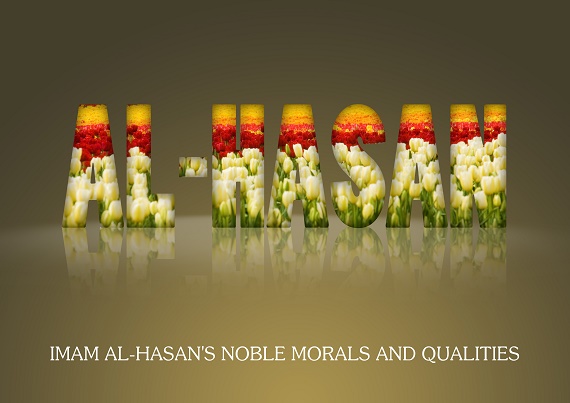 IMAM AL-HASAN'S NOBLE MORALS AND QUALITIES
Written by Allamah Tabataba'i
Editor Faisal Shaheen
Supervisor Sayyed Roohullah Musavi
Published on Friday, 15 May 2015
Hits: 467 views
Hits: Would you please benefit us with an overview of Imam al-Hasan's noble qualities and godly morals.
Click to subscribe
High qualities and noble ideals were prominent in Imam Abu Muhammad's character (al-
Hasan). The Islamic character, elements, and fundamentals were embodied in him.
Imam al-Hasan reached the pinnacle of society in his merits, achievements, genuine opinion,
exhalted thinking, strong fear of Allah, abundant clemency, good manners, and
talents upon which Muslims pride themselves. Noble moral traits, original thought and deep thinking were blended in his personality. Biographers have unanimously agreed on that al-Hasan was the most clement of the people, and the most able among them in restraining rage,
showing patience towards harmful and detested things. He was kind to people
and always pardoned them and forgave their mistakes. He was like his
grandfather, the Prophet (a.s), whose ethics and clemency embraced all the
people.
According to his abilities and tendencies, he was among the most unique
of human minds, one of the ideals of the mankind's perfection, and among the great
Muslim figures.
HIS IMAMATE
The most prominent quality in him was his observance of the Imamate, for the Imamate
required ideals and abilities only in those whom Allah
has chosen from among his servants. Allah had endowed him with it. The
noble Prophet announced this feature of his character when he spoke in respect of him and his brother:
"Al-Hasan and al-Husayn are two Imams whether they rise or sit down."
As man has no right to find and form prophethood, he has no
right in finding and forming the Imamate. That is because noone knows and recognizes the
infallibility, which is among the qualities of the Imam, except Allah, Who
knows the things hidden in souls.
HIS NOBLE MORALS
 History has mentioned many examples
of his noble moral traits. We will mention some of them as follows:
1. Some poor persons were collecting pieces of bread from the streets. They
put them on the ground and began eating them. Imam al-Hasan passed by
them, and they invited him. He responded to them and said: "Most surely
Allah does not love the arrogant!" After he had had food, he invited them.
Then he entertained them and gave clothes to them.1  He showered them with
his boons and kindness.
2. While some boys were having food, Imam al-Hasan passed by them. They
invited him, and he responded to them. Then he took them to his house. He
showered them with his kindness and charity and said: "They have the favor,
for they had nothing other than that which they give to me as food; while we
find what we give to them." 2
3. There was a person from among those whom Mu'awiya made to harbor hatred
and malice against the Ahlul Bayt. The Imam passed by the person, and the individual
abused the Imam several times. As for the Imam, he kept silent and refuted nothing
of the person's words. After the person had finished chastising the Imam, the Imam turned
to him and addressed him with soft words. The Imam smiled at him and said:
"O Sheikh, I think you are a stranger? If you ask us (for money), we will give
you. If you ask us for guidance, we will guide you. If you ask us to maintain
you, we will maintain you. If you are hungry, we will give you food. If you
are in need, we will grant your need. If you are homeless, we will lodge you."
The old man became so astonished at the Imam's behavior that he was unable to refute the Imam's speech. He became both perplexed and ashamed. He thought of a way to apologize to the Imam and to
repair his sin, so he said to the Imam: "Allah knows where He places His
message!"3
Similarly, the Imam treated with kindness all those who mistreated him and harbored malice
against him. He was patient with them and he pardoned them, to the extent
that his bitter enemy, Marwan bin al-Hakam, admitted his high clemency and
noble moral traits. This admission was brought into full view, when the Imam joined the Most High Comrade (Allah) and departed this world. Marwan hurried to carry his coffin. This prompted Imam al-Husayn, the master of martyrs, asked him:
-Today you are carrying his coffin while yesterday you bothered him? Marwan then responded "I did that toward him whose clemency was equal to mountains!"4
HIS GENEROSITY
This high quality was characteristic in Imam Abu Muhammad al-Hasan (a.s) to the extent that he was given the nickname of Kareem Ahlul Bayt (the Generous One of the Prophet's household).
He thought that money was insignificant and unimportant, lest it should be used for
satisfying the hungry, clothing the naked, helping the grieved, and paying the
debt of a debtor. For the pleasure of Allah, the Imam sacrificed all of his expensive and precious
Possessions. He gave the land taxes of his properties twice. For the sake of
Allah he made the people equally share in his properties three times.5
Here we mention some stories about his generosity:
1. Imam al-Hasan (a.s) passed by a black boy. There was a loaf of bread
before the black boy. He was eating a piece of it and giving another to his
dog. The Imam asked him:
-What has made you do that?
-I feel shame when I eat without feeding it.
The Imam came to know that the black boy had the most lovable quality to
him. He decided to reward him and reward his kindness with kindness. Imam
al-Hasan (a.s) said to the boy: "Do not leave your place!" Then he went to the
boy's master and bought him from him. He also bought the garden where he
worked and made him own it.6
2. Once, his slave girl greeted him with a bouquet of basil, and he (a.s) said to
her: "You are free for the sake of Allah!" Anas blamed him for that, and he
(a.s) said to him: "Allah has brought us up when He has said: And when you
are greeted with a greeting, greet with a better (greeting) than it or return it.
The better than it is releasing her."7
3. When he (a.s) bought a garden from people, and they became in need of
the garden, he returned it to them or along with the cost. 8
HIS WORSHIP AND FEAR OF ALLAH
The historians have unanimously agreed that al-Hasan (a.s) was the most
devoted in worship of the people of his time. Historians also agree that he was the greatest of them in piety and devotedness to Allah. He performed the hajj to the
Sacred House of Allah (the Kaaba) twenty-five times. He offered meditations
through which he sought nearness to Allah. He freed himself from the
amusement of the world and turned away from its vanities. 
Narrators have talked about his obedience, saying: "During all the
times he was seen mentioning Allah continuously.9
When he remembered death and the resurrection after it, he wept bitterly.10
When he remembered the stand before Allah, he sobbed and fainted.11
When he intended to perform his prayers, submission, reverence, and fear
appeared on his face, to the extent that he shook allover.12 When he finished
the Morning Prayer, he said noting except the remembrance of Allah until the
sun rose."13
Imam al-Hasan carefully recited the Qur'an. When he recited a verse
addressing the believers, he said: "Here I am! O Allah, here I am!"14 
HIS DIGNITY AND VENERATION
Al-Hasan was similar to his grandfather the Prophet (a.s) in his veneration,
Righteousness, and noble natures.
Wasil bin Ataa'   has narrated: "The signs of the prophets and glory of kings appeared on the
face of al-Hasan."15
Ibn al-Zubayr has said: "By Allah, women have never born anyone similar to
al-Hasan bin Ali in dignity and is high position."16
Imam al-Hasan was so solemn that he commanded a great social rank in the souls of
Muslims. When he and his brother al-Husayn passed by some riders during
their journey to make the hajj to the Kaaba, the riders dismounted as a sign of
admiration and respect for them. The masses of hajjis found it difficult to
perform the hajj on foot. So they talked to Sa'd bin Abi Waqqas in this
respect, and he went to Imam al-Hasan and said to him: "O Abu Muhammad,
the hajjis have found it difficult to perform the hajj on foot. When they see
you, they are not pleased with riding their camels. If you please ride (a camel)
as a sign of showing mercy towards them."
The Imam answered: "We will not ride, for we have made a covenant with
Allah that we go to His House on foot, but we will avoid the public way."17
HIS SCIENTIFIC TALENTS
Due to his heredity, Imam al-Hasan (a.s) acquired knowledge of cleverness and high reflection
that was exclusive to those near the Prophet (saws). The narrators have reported several traditions on his early genius, saying: "Al-Hasan memorized all things he read. He attended the meetings of
his grandfather (a.s) and memorized the Revelation. Then he went to his
mother and told her about it.18
Though al-Hasan (a.s) was four years old, he memorized many traditions he
heard from his grandfather (a.s).
Imam al-Hasan (a.s) was from the sources of intellect, and the fountains of
wisdom and knowledge in Islam. 
The wonderful scientific heritage transmitted from his is the best
proof on his abundant knowledge.
He (a.s) was the most skillful of the eloquent in saying correct speeches during the
ceremonies, the ablest of them in abridgement, inimitability, and creativity of
speech. He (a.s) has left behind him an excellent inheritance and eloquent, wise
sayings containing the principles of social morals, advice, guidance, and
immortal preachments. They have been inlaid with pretty pronunciation and
high meaning.
--------------------------------------------------------------
References:
1 A'yan al-Shi'a, vol. 4, p. 24.
2 Al-Sabban, p. 176.
3 Ibn Shahrashub, al-Manaqib, vol. 2, p. 149. Al-Mubarrad, al-Kamil, vol. 1, p. 190.
It has been mentioned in it: "The Bedouin went away while he was saying: "By
Allah, none on the surface of the earth is more lovable to me than he!"
4 Sharh Nahj al-Balagha, vol. 4, p. 5.
5 Usd al-Ghaba, vol. 2, p. 13. Bihar al-Anwar, vol. 10, p. 94.
6 Al-Bidaya wa al-Nihaya, vol. 8, p. 38.
7 Al-Manaqib, vol. 2, p. 23.
8 Al-Sha'rani, al-Tabaqat al-Kubra, vol. 1, p. 23.
9 Al-Saduq, al-Amali, p. 108.
10 Bihar al-Anwar, vol. 10, p. 93.
11 Al-Saduq, al-Amali, p. 108.
12 Al-Saduq, al-Amali, p. 108.
13 Bihar al-Anwar, vol. 10, p. 93.
14 Al-Saduq, al-Amali, p. 108.
15 A.yan al-Shi.a, vol. 4, p. 12. Al-Manaqibin
16 Ibn Kuthayr, Tarikh, vol. 8, p. 37.
17 Al-Manaqib, vol. 2, p. 142. A.yan al-Shi.a, vol. 4, p. 20.
18 Ibn Shahrashub, al-Manaqib, vol. 2, p. 148. Bihar al-Anwar, vol. 10, p. 93.
19 An-Nihaya by Ibnul Atheer.